Submitted by

Penguin Truth

on Fri, 03/25/2011 - 19:08
Body:
"You Can (Not) Advance"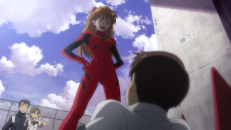 (Spoiler-Free) Synopsis: Shinji Ikari's life continues to complicate as new Evangelion pilot Asuka Langley Shikinami, pilot of the EVA Unit 02, arrives in Japan. Asuka stays with Shinji and Misato. Also arriving is a mysterious girl named Mari Illustrious Makinami, who has her own agenda. Again, Shinji has to battle the threat of Angels while trying to understand his father and others. However, Gendo Ikari has his own plans, and a ruthless move on his part causes Shinji to run away yet again. Shinji has to muster the resolve to again pilot his Eva and save everyone.